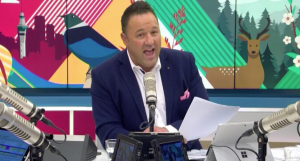 On Friday 14 June, Duncan Garner and his Panel discussed Men's Health Week on the popular The AM Show on TV 3.
Turns out that Duncan is not so good at keeping up with some of the age-related tests that all guys should be doing in an effort to try and stop some of the thousands of preventable deaths that Kiwi families have to cope with every year.
Preventable means that we can (and should) actually do something about some of these conditions. Testing can identify for instance whether you might be prediabetic, and with some warning you might be able to make the lifestyle adjustments that are needed to stave off this major illness. Getting your prostate checked, having your blood pressure tested, actually doing a little bit of exercise…..these are all steps in being proactive about your health.
Here's a tip – make an appointment for a check up with your doctor for the same week as your birthday. That way you will remember to do it. Think of it as getting your own WOF, just like you have to for your car every year.